Brazil vs Costa Rica, Live Score, FIFA World Cup 2018: Neymar and Brazil Look to Dominate Costa Rica
22 Jun 2018 – 17:30 IST – Saint Petersburg Stadium
Group Stage – Group E
Brazil
10
0 – 0full time
Costa Rica
20
Latest update:
After the initial exchanges saw Brazil dominate the ball and look like they would open the scoring soon, Costa Rica have regrouped and kept their fancied opponents at bay. The best chance of the game in the first half an hour fell to Cristian Gamboa of Costa Rica but they could not take advantage. Meanwhile, Neymar continues to get special treatment from the defenders.
Catch all the live updates from the match between Brazil and Costa Rica from Group E at St. Petersburg in the 2018 FIFA World Cup.
Read More
Jun 22, 2018 6:12 pm (IST)
Marcelo finally gets his shot on target, and this time low near the post with his right foot. Navas though has it covered without too much trouble. Costa Rica have five minutes to hold on to for the half time break. 
Jun 22, 2018 6:11 pm (IST)
Stat Attack: The last five games involving Costa Rica at the World Cup have produced just four goals. Worrying news for neutrals and Brazil fans alike!
Jun 22, 2018 6:09 pm (IST)
There was a penalty shout from Neymar on that corner, but the ref was having none of it. 
Jun 22, 2018 6:09 pm (IST)
Marcelo has been very enterprising as always in attack. He plays it out to Willian who gets a corner but Costa Rica are able to clear quite comfortably. 
Jun 22, 2018 6:04 pm (IST)
Brazil have been restricted to shots from distance, and this time it was Willian who cut in from the right and shot with his left foot. Navas watches it sail over. 
Jun 22, 2018 6:03 pm (IST)
Costa Rica have defended fantastically so far and have kept their opponents from having a shot on Navas' goal. Every one is tracking back as they look to close out the spaces and apply pressure on Brazil. 
Jun 22, 2018 6:02 pm (IST)
Half an hour gone in the game, and Brazil have not been allowed to play at the tempo they would have liked. But they are beginning to come to life in the last few minutes. Neymar floats it to the far post hoping Jesus will get his head to it but the off-side flag is up yet again against Brazil. 
Jun 22, 2018 5:59 pm (IST)
Marcelo creates some space on the left and has a shy on goal. But it's just outside Navas' goal and Costa Rica have a goal-kick. Brazil's best chances have come from their flamboyant left back. 
Jun 22, 2018 5:57 pm (IST)
Marcelo advances down the left with the ball, like he usually likes to do. The ball luckily comes back to him near the penalty box and his shot is miscued and lands at the feet of Jesus who is off side. 
Jun 22, 2018 5:56 pm (IST)
Costa Rica have been successful in stemming the flow of moves of the Brazilians as the game has been stop start so far in the first half. That suits the Costa Ricans more. 
Jun 22, 2018 5:53 pm (IST)
Gabriel Jesus goes down on the right and Brazil once again look to use a set-piece to do the damage. Thiago Silva's header is off target though. 
Jun 22, 2018 5:52 pm (IST)
20 minutes gone in the game and there have been no goals yet, with Costa Rica producing the best chance of the game of the so far, even though they have only one player taking up an offensive position. Striker Urena is the only one consistently staying up to attack. 
Jun 22, 2018 5:51 pm (IST)
Venegas tries to get Costa Rica going in attack again, but Brazil mop up on the left wing. Costa Rica have not been all defense and have pushed Brazil back after the initial exchanges where the former champions were going gung-ho in attack. 
Jun 22, 2018 5:49 pm (IST)
Neymar with a bit of fancy footwork on the left wing as he fools Gamboa and is then brought down. Brazil have a free-kick and Neymar's ball in is collected easily by Navas at the far post. 
Jun 22, 2018 5:47 pm (IST)
Neymar swings another free-kick, this time from the left. Costa Rica though know how to defend clearly and ensure the ball is cleared out to the centre line at least. 
Jun 22, 2018 5:46 pm (IST)
That move has given Costa Rica some confidence as they are looking to have a go early on at the Brazilians. But Thiago and Miranda and Marcelo somehow manage to clear it out and are aided by a free-kick awarded in favour of Neymar in the defensive third. 
Jun 22, 2018 5:44 pm (IST)
Massive moment for Costa Rica as they had a chance. Gamboa goes to the byline and cuts it back to the box, where Borges ghosts in and the shot is off target. He should have done better and Brazil should probably have been trailing against the run of play. 
Jun 22, 2018 5:41 pm (IST)
Casemiro has put the ball out of play as he has a bloody nose. Brazil playing with 10 men rebuild from the back. 
Jun 22, 2018 5:40 pm (IST)
Neymar takes the free-kick and Costa Rica clear out of their area and the ball is back with the Brazilian keeper. 
Jun 22, 2018 5:39 pm (IST)
Costa Rica give the ball away in a dangerous part of the ground first and then giving away another free-kick. Guzman's clearance wasn't the greatest as the ball hit him in the face before he could react.  
Jun 22, 2018 5:37 pm (IST)
Costa Rica's Gamboa tries his luck from distance at the Brazilian goal, but it's well over and into the stands where the Brazilian support are sitting. 
Jun 22, 2018 5:36 pm (IST)
Brazil enjoying more of the ball in the early part of the match as Costa Rica struggle to get themselves going. Most of the first five minutes have been spent in Costa Rica's half.  
Jun 22, 2018 5:34 pm (IST)
Fagner who has come in to replace Danilo at the right back position whips in a good ball to the feet of Gabriel Jesus. The Man City striker's first touch though let him down and the Costa Rican clearance fell to Philippe Coutinho, who's shot was rather wayward. 
Jun 22, 2018 5:32 pm (IST)
The first free-kick of the day goes to Brazil as Willian was stopped while he was coming inside from the right hand side. 
Jun 22, 2018 5:31 pm (IST)
Costa Rica in white kick things off and play the ball all the way back to Navas. The are going right to left as we look at it. 
Jun 22, 2018 5:29 pm (IST)
On a personal note for Neymar, he needs to score one goal to overtake Romario and become the third highest goal scorer for Brazil behind Pele and Ronaldo. 
Jun 22, 2018 5:26 pm (IST)
Thiago Silva, who is skippering Brazil again today after Marcelo wore the arm band in the previous game against Switzerland, becomes the fifth man to captain the team at two different World Cups.
Jun 22, 2018 5:24 pm (IST)
The players are emerging from the tunnel and are lining up for the national anthems. The Brazilians go first with Costa Rica after this.
Jun 22, 2018 5:21 pm (IST)
Jun 22, 2018 5:12 pm (IST)
Tite believes A Seleção have settled down after their opening World Cup match. That's important because the players know how much they need a win today, but at the same time they have to control their nerves. They will also need to show real patience against another defensive-minded team.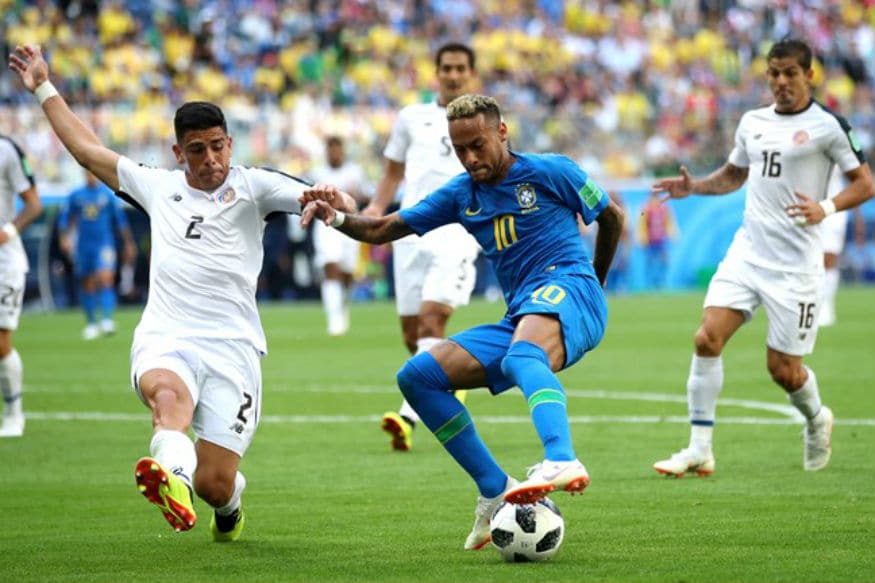 (Image: FIFA)


Preview: A battered and bruised Neymar will aim to get Brazil's World Cup campaign back on track here on Friday as the pre-tournament favourites seek to re-assert their title credentials with victory over Costa Rica. Neymar was given a rough ride in Brazil's disappointing 1-1 draw with Switzerland on Sunday, fouled 10 times during the match, the most for any player in a single World Cup game for 20 years. The world's most expensive player then set alarm bells ringing when he hobbled out of training on Tuesday in full view of the cameras. However, he returned to the training pitch 48 hours ahead of the clash in Saint Petersburg, raising hopes he will feature. Even before his latest setback, there were doubts over Neymar's fitness heading into the World Cup after a three-month layoff. The Switzerland clash was his first competitive game for nearly four months after a broken bone in his right foot ended his club season with Paris Saint-Germain in February. To the frustration of many in the French capital, Neymar returned home for much of his recovery process with the intention of being fully fit for the World Cup. However, questions remain whether he is seriously lacking match practice. Brazil looked to their talisman time and again in the final stages in Rostov-on-Don, but he failed to find the final pass or finish to unlock a well-organised Switzerland defence. Instead, it was Philippe Coutinho who got Brazil's campaign off to a flying start with a wonderful long range strike to open the scoring. In contrast to Neymar, Coutinho ended the season in sensational form for Barcelona after sealing his dream move from Liverpool. Should Neymar not be fit, Coutinho could be moved into his role on the left of a front three with Tite bolstering his midfield. However, Coutinho insists Neymar remains the key figure in Brazil's pursuit of World Cup glory. "Neymar is one of the best players in the world. Of course having him in our side is a big plus for us," said Coutinho. "He is so important. He is always creating the play, creating space." Brazil were not just unhappy with the treatment meted out to Neymar, but also Switzerland's equaliser when the Video Assistant Referee (VAR) system failed to rule out Steven Zuber's equaliser for a slight push on Miranda. The Brazilian federation even took their complaints to FIFA. Needing a break and to relieve the pressure with a win, Brazil could hardly have picked better opposition in Los Ticos, who have only beaten Brazil once in 10 meetings way back in 1960. Costa Rica shocked England, Italy and Uruguay to reach the quarter-finals four years ago, but are even more in need of the points after losing 1-0 to Serbia in their opening game. They also lost heavily to Belgium and England in warm-up friendlies, but captain Bryan Ruiz believes they can follow Switzerland's example to cause another massive upset. "Switzerland pressed them in midfield and that's what you need to do because everybody knows that Brazil are best from midfield going forward," said the Sporting Lisbon attacker. "We need to win the ball back quickly and counter-attack quickly."