Croatia vs England, Live Score, FIFA World Cup 2018 SF: Kieran Trippier Gives England Lead Against Croatia
11 Jul 2018 – 23:30 IST – Luzhniki Stadium
Semifinal –
Croatia
110
0 – 1
England
50
Latest update:
Kieran Trippier has curled it into the top corner beyond the reach of the diving Subasic. England lead 1-0
Catch all the latest updates from the semi-final between Croatia and England at the 2018 FIFA World Cup on News18Sports' Live blog.
Read More
Jul 12, 2018 12:13 am (IST)
Slight lull characterised with some scrappy football from both sides. Croatia look to hog the ball, but can't keep it for too long and looking toothless in attack as we head towards the half time break. 
Jul 12, 2018 12:08 am (IST)
As we approach the end of the first half, England are threatening to score more and get some breathing space for themselves, but Croatia have held on and in fact England have been rather poor at finishing off moves which will give Croatia some more hope going forward in the game. Croatia growing into the match slowly with Modric marshalling things from midfield. 
Jul 12, 2018 12:07 am (IST)
Rebic though is causing the English some trouble with his pace against the oldest Englishman on the pitch Ashley Young. 
Jul 12, 2018 12:06 am (IST)
Rebic in the centre of the field gives it away as Young pokes it forward for Kane. The captain looks left to Alli, who has three blocking his angle for a shot so he has to go to Lingard ghosting in at the top of the box. But the shot is wide and nothing like his goal against Panama. 
Jul 12, 2018 12:04 am (IST)
Rebic goes up for a long ball, but only succeeds in clattering Pickford to the floor. A foul, but nothing more, and we all play on.
Jul 12, 2018 12:03 am (IST)
Modric shows up in the final third at last. His dribbles confuse England, and then the ball breaks back to Rebic, who sends a rising heatseeker towards the top left. Pickford has his hands warmed for the first time this evening, but it's an easy enough gather.
Jul 12, 2018 12:01 am (IST)
Henderson keeps it going with a square pass and England build down the left. Kane brings it down for Alli who plays it to Lingard. The Man united man's ball through to Kane is a peach, but Subasic comes of his line and saves. The ball is cleared off the line almost as Kane goes for the rebound. But he was off side and that would not have counted. Kane would feel he should have scored. 
Jul 12, 2018 12:00 am (IST)
Sterling on the right now has to wait for support to come in before he can do much, but is forced to go back to Jordan Henderson. 
Jul 11, 2018 11:58 pm (IST)
Alli looks for Sterling who goes off down the left wing at great speed. He's blocked by Lovren, who is really chancing his arm now. But it's a free kick, and a chance to load the box. But the free-kick in from Young is harmless. 
Jul 11, 2018 11:56 pm (IST)
Lingard looks to build down the right at pace, but he comes in and the pass square is bad with options like Kane and Alli around. Modric just about keeps it in and finds Rebic but the ball across the face of goal is too near to Pickford. 
Jul 11, 2018 11:54 pm (IST)
Raheem Sterling looks quite hungry and keen on getting things done today. He stole it from Rakitic in the middle before going past a couple of players like they weren't there. But he over ran it and Croatia can clear. Definitely not the tempo from last night, but the stakes are high! 
Jul 11, 2018 11:53 pm (IST)
Jul 11, 2018 11:52 pm (IST)
Oh oh! Strinic makes a hash of playing a pass out from the back and gifts it to Sterling. But he can only go to Kane who is well offside. 
Jul 11, 2018 11:51 pm (IST)
Ante Rebic comes in on his left foot from the right and looks to jinx his way through before shooting, but John Stones stays on him and blocks the shot emphatically. 
Jul 11, 2018 11:49 pm (IST)
Croatia's Ivan Perisic has a shy from range and it flicks Kyle Walker's boots and goes outside. England get lucky as the ref did not see that. 
Jul 11, 2018 11:47 pm (IST)
Croatia are struggling to string two passes together right now. Vrsaljko, slightly frustrated, clatters into Kane.
Jul 11, 2018 11:47 pm (IST)
Jul 11, 2018 11:46 pm (IST)
15 minutes into the game and England have come out of the blocks flying, like they have done most times through the World Cup. Can they maintain it and guard against over-confidence against a Croatia side that usually grows into the game? 
Jul 11, 2018 11:44 pm (IST)
Alli quite involved in the game early on! He has helped earn a corner now, which Harry Maguire wins but he can't keep it on target. 
Jul 11, 2018 11:43 pm (IST)
Alli, chasing a loose ball, forces Brozovic into the concession of a corner from 30 yards out. Maguire gets his head on the delivery from the left, but he's pushing and the referee relieves the pressure on Croatia.
Jul 11, 2018 11:41 pm (IST)
The corner's no good. It should be easily cleared by Alli, who does clear, but only after nearly passing straight to a black shirt. England skitter upfield at speed again, and Kane very nearly springs Sterling clear but Vrsaljko does enough.
Jul 11, 2018 11:39 pm (IST)
Perisic sends the ball into the England box from the left. Young miscontrols at the far post and concedes a corner. Croatia's first chance to test England.
Jul 11, 2018 11:38 pm (IST)
Croatia try to strike back immediately, Rebic hooking into the England box from the right. Pickford claims easily, and sets England away on another attack. Sterling hares  down the right after a long pass, and very nearly latches onto it, but Subasic is quickly off his line to smother.
Jul 11, 2018 11:36 pm (IST)
What a start to this game!! 
Jul 11, 2018 11:36 pm (IST)
GOAL: England have come out of the blocks flying!! Kieran Trippier has curled it into the top corner beyond the reach of the diving Subasic! England lead 1-0 
Jul 11, 2018 11:35 pm (IST)
England then stroke it around a little bit amongst themselves before Pickford punts it forward. England win a free-kick with Stones and move forward where Luka Modric has brought down Lingard and it is just outside the box that the ref has blown for another free-kick. Some years ago, this would be David Beckham range. 
Jul 11, 2018 11:34 pm (IST)
Croatia knock it around the back a bit. Lingard goes clattering into Strinic and earns a calm-down chat from the ref. Nothing major, the ref knows it's just a bit of early nerves.
Jul 11, 2018 11:32 pm (IST)
We've kicked off, and within the first move itself, Jordan Henderson has bundled over Ivan Rakitic and conceded the free-kick and given the ball away. 
Jul 11, 2018 11:30 pm (IST)
Here we go! England will kickstart proceedings in Moscow at the Luzhniki Stadium. England are in all white and Croatia in their change strip of black and blue. 
Jul 11, 2018 11:26 pm (IST)
Stat attack: Should Croatia make it to the Final, they will be the lowest ranked team (20th) to ever reach the climax of a World Cup. Since the FIFA World Ranking came into existence in 1992, France's side of 1998, who were 18th, are the current lowest-ranked.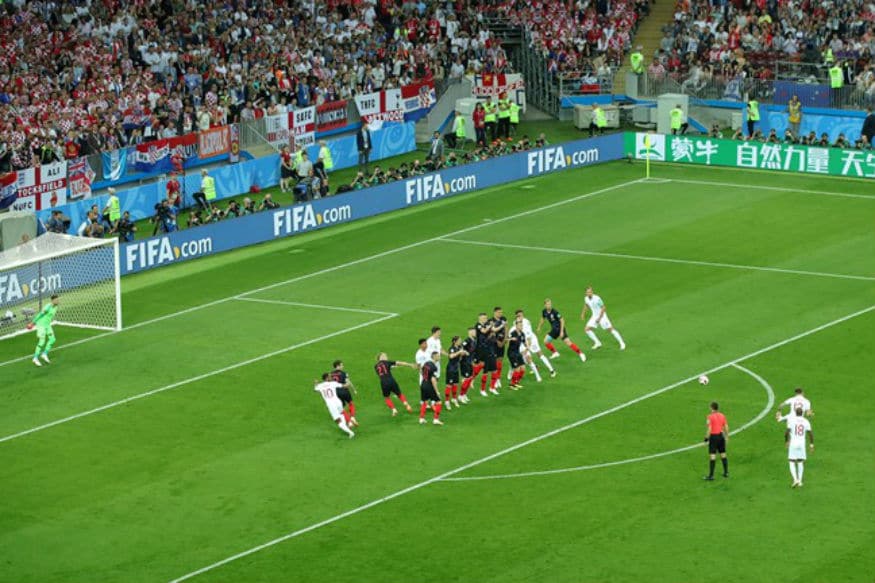 (Image: FIFA)


Preview: England are dreaming of a first World Cup final since 1966 but first they must come through Wednesday's semi-final at the Luzhniki Stadium against Croatia in what looks like their toughest test yet in Russia. Excitement has reached fever-pitch levels back in England, with Gareth Southgate's young team making it to the last four of a major tournament for the first time since Euro '96, and for the first time at a World Cup since Italy in 1990. Both of those runs ended in defeats on penalties, but there is a belief that something could be different this time. England have already won a shootout in Russia, against Colombia in the last 16. And a young, likeable side with an eminently sensible and humble manager in Southgate have captured the hearts of a nation. Can Southgate now become the first manager to win a World Cup semi-final with England on foreign soil as he bids ultimately to match the achievement of Alf Ramsey's side? "We were not certain what this team might be capable of," Southgate admitted to ITV, mindful of England's many recent failures. They had won just one knockout match at a major tournament in 16 years before coming to Russia, a 1-0 victory against Ecuador at the 2006 World Cup in Germany. "We believed in its potential, and I think the games that we've prepared for, we had belief we would win, but there is still pressure in all of those matches, so I'm really pleased with how the team have emerged and developed." Southgate has been just the voice of reason England have needed to prevent anyone from getting too carried away. For all of the hype around England, they have yet to come up against one of the really big guns at the World Cup. They beat Tunisia in their tournament opener thanks to a late Harry Kane goal, brushed aside a poor Panama, edged out Colombia on penalties and easily beat Sweden in the quarter-finals. Their one defeat came against Belgium in their final group game, in a match between two essentially reserve sides. The challenge posed by Croatia is likely to be more demanding, especially as Zlatko Dalic's side features one of the best midfield pairings around, in Luka Modric and Ivan Rakitic. Real Madrid playmaker Modric, who was at Tottenham Hotspur earlier in his career at the same time a young Kane was starting out, has been a particular inspiration. The captain was the man of the match again in the penalty shootout win over Russia in Sochi at the weekend. That allowed Croatia to reach the semi-finals for the first time since the 1998 World Cup in France, which was their first as an independent nation. For a country with a population of little more than four million, making it all the way to the final would be a remarkable achievement. "There is still a lot to play. England is also one of the favourites to win the World Cup and you need to respect that. But we have nothing to lose, we will enjoy this game, and hopefully we can write history," said defender Dejan Lovren, of Premier League side Liverpool. Since 1998, Croatia have endured disappointments at major tournaments themselves, notably losing on penalties to Turkey in the Euro 2008 quarter-finals. But there is less pressure on them now. "The biggest pressure came against Denmark in the round of 16 (which also went to extra-time and a penalty shootout). We feel much easier at this point," said striker Mario Mandzukic. The fact that Croatia have had to play so much football could perhaps give England an edge, all the more so given the injury problems faced by Dalic. Goalkeeper Danijel Subasic soldiered on against Russia despite hurting a hamstring, while right-back Sime Vrsaljko is expected to miss the game. However, Southgate refuses to accept the idea that England will be significantly fresher. "Any team in a World Cup semi-final is going to find the energy and going to find the motivation. So we won't win the game just because Croatia had half an hour more football than us three days ago. We've got to win because we play better.