Germany vs Sweden, Live Score, FIFA World Cup 2018: Marco Reus Brings Germany Back to Level Terms Against Sweden
23 Jun 2018 – 23:30 IST – Fisht Stadium
Group Stage – Group F
Germany
20
1 – 1full time
Sweden
10
Latest update:
Germany have begun the second half strongly and have fought back against Sweden with the equaliser coming from Marco Reus.
Catch all the updates from the Group F clash between Germany and Sweden on News18Sports' Live blog.
Read More
Jun 24, 2018 12:36 am (IST)
GOAL: Germany have responded with Marco Reus scoring early in the second half. Lovely ball in from Werner on the left! 
Jun 24, 2018 12:34 am (IST)
The second half has begun and Julian Draxler has been taken off for Mario Gomez. This is the most important half of football for Germany since the 2014 World Cup final. 
Jun 24, 2018 12:26 am (IST)
After all the crosses pinged in by Germany, they are surely missing Miroslav Klose's striking abilities at this World Cup. 
Jun 24, 2018 12:25 am (IST)
Vikings 🇸🇪 Swe vs Ger

— Zlatan Ibrahimović (@Ibra_official) June 23, 2018
Jun 24, 2018 12:23 am (IST)
Sweden far more clinical in terms of making the opposition keeper work whenever they can. Germany's forwards have been hitting it off target and that needs to change in the second half! 
Jun 24, 2018 12:21 am (IST)
Here are the first half statistics. Germany completely dominating the ball and have had more chances, but have been shaky defensively which has cost them dear. 
Jun 24, 2018 12:19 am (IST)
At half time: Sweden lead Germany 1-0 and the defending champions have 45 minutes more to save their campaign from becoming an absolute disaster. 
Jun 24, 2018 12:18 am (IST)
Larsson with a good delivery from the set-piece and Berg directed the header goalwards and it needed a massive save from Neuer to keep the scoreline at 1-0. Nervy moments for Germany at the back. They will be thankful that half time has finally come by. 
Jun 24, 2018 12:16 am (IST)
At the other end, Boateng tried to catch Olsen off guard, but the shot was off target. Germany and Sweden have two more minutes to play in the first half which has been exciting, fast and has had end to end action. 
Jun 24, 2018 12:15 am (IST)
Sweden's Claesson was about to pull the trigger after Forsberg and Berg combined well before him. Boateng though stuck his foot out to keep Germany in it. The German defense has been rattled and they look nervy. 
Jun 24, 2018 12:12 am (IST)
40 minutes gone in the game and Sweden have grown into the game, much more than Germany would have liked. The Germans have had multiple chances but failed to finish them and Sweden have done well to turn that around. 
Jun 24, 2018 12:10 am (IST)
Kimmich with the cross in to the box from the right where Sweden are defending in numbers. The ball has gone back out and finds Draxler on the left, who plays it to Gundogan. The Man City midfielder's shot is good and low, and Olsen just about keeps it out. Thomas Muller followed it up and Lustig did enough to put him off! 
Jun 24, 2018 12:08 am (IST)
Once again giving the ball away and being suspect against quick counter-attacks and turn overs has done Germany in. Can they bounce back in Sochi? 
Jun 24, 2018 12:04 am (IST)
Toivonen lifts it over Neuer who was coming out to stop the shot, but a deflection of Rudiger has helped it into the net. Germany at this point heading out! 
Jun 24, 2018 12:03 am (IST)
GOAL: Ola Toivonen has scored against the run of the play after Toni Kroos lost the ball in the midfield! 
Jun 24, 2018 12:02 am (IST)
Rudy's night is over and he rather frustrated about that. Germany have brought on Ilkay Gundogan to replace him in the midfield. 
Jun 23, 2018 11:59 pm (IST)
Sweden doing well to get on the ball and keep it for a while, as the Germans fall back in numbers. Augustinsson finally delivers from the left and Toivonen heads it goal wards but settles for the corner. 
Jun 23, 2018 11:57 pm (IST)
Half of the first half has gone by now, and the best chances have come to Timo Werner and Julian Draxler for the Germans – both were cleared in desperate fashion by the Swedes, who themselves had two counter-attacks almost work out well. Berg has already forced a save out of Neuer too. 
Jun 23, 2018 11:55 pm (IST)
Sebasitan Rudy is down and looks in pain. An injury is not something Low wants to deal with now even though he has quite a bench. Rudy got the boot of Toivonen in his face as he was trying to get on his feet after making a challenge. 
Jun 23, 2018 11:54 pm (IST)
Boateng plays it out long Hector, who can't quite control and Toni Kroos steps into help him out. The Germans have a corner. 
Jun 23, 2018 11:52 pm (IST)
For the Swedes, Berg at the top of the attack is looking very lively and is likely to give the German defense a lot to think about. But for now, the Germans are giving the Sweden defenders a lot to think about as they are linking very intelligently and finding the spaces behind the defense with relative ease. 
Jun 23, 2018 11:51 pm (IST)
The likes of Kroos, Draxler, Werner, Muller and Reus in attack. Right now, we have Muller on the left for now. This is very good to watch for the fans, but not for the Swedish team who know this needs to stop if they want to inflict damage on the world champions.
Jun 23, 2018 11:49 pm (IST)
Boateng and Berg were at it again, the striker was poised to unleash a ferocious volley, but Boateng nipped it in the bud. 
Jun 23, 2018 11:48 pm (IST)
Germany with a lot of possession in the Sweden half. They have literally camped in that half of the field and are looking menacing everytime they go forward. Sweden on the other hand, are still unhappy about Boateng's challenge. 
Jun 23, 2018 11:45 pm (IST)
Sweden's counter attack completely against the run of play was started of by Toivonen in the midfield. Germany have spoken about this as a problem and it is evident again. 
Jun 23, 2018 11:44 pm (IST)
Chance and Save!! Sweden and Berg were through on goal and was one on one with Neuer after the ball played into him caught Germany high up the pitch. Neuer saved the day, as Boateng closed down Berg. Sweden appeal for a foul but get nothing. Germany have been caught out on the counter twice in the first ten minutes. 
Jun 23, 2018 11:40 pm (IST)
Great ball from Kimmich to Reus who cuts it back for Werner, but Lindelof has saved the day and conceded a corner. Germany are tearing apart the Swedes, and this some response after the opening game.
Jun 23, 2018 11:38 pm (IST)
Germany with another chance to score as Marco Reus lets Julian Draxler free on the left, who swung it in low and hard but there wasn't any one coming in for a tap in. Sweden are living dangerously. 
Jun 23, 2018 11:37 pm (IST)
Forsberg doing well on the counter-attack to break away from a couple of German defenders. He was through on goal one on one with Neuer, well almost, till Muller came and stopped him. 
Jun 23, 2018 11:36 pm (IST)
The Germans remember are out to right a wrong and there is some fierce intensity in their game already. The first five minutes have seen them camped inside the Swedish half mostly.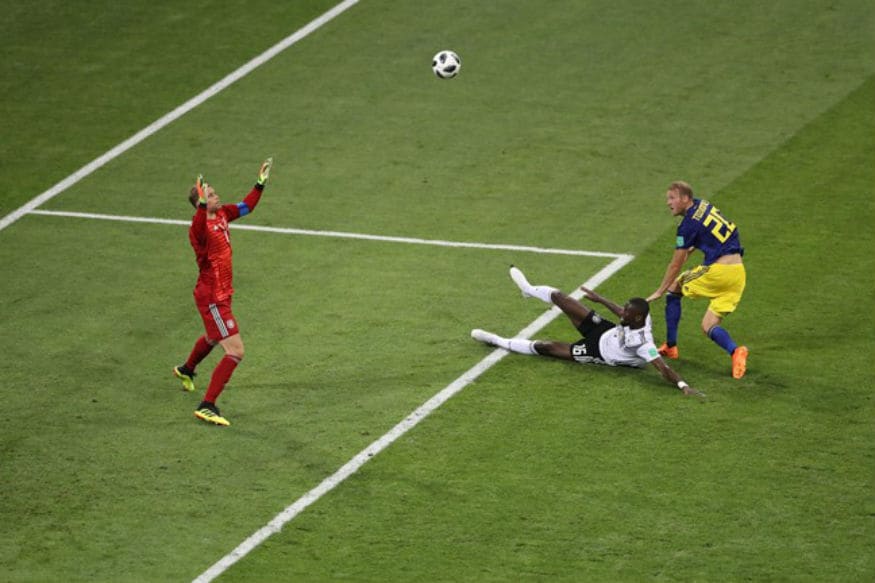 (Image: FIFA)


Preview: Germany can ill afford another slip-up when they take on Sweden at the World Cup on Saturday, as the defending champions attempt to follow Brazil's lead by belatedly springing into life. Joachim Loew's side slumped to a 1-0 defeat against Mexico in their opening Group F match, paying the price for a calamitous first half in a performance that drew stinging, widespread criticism. Lothar Matthaeus, the 1990 World Cup-winning captain, said he hadn't seen a Germany team "so weak at a big tournament for a long time" following the loss in Moscow. The holders will likely be without defensive pillar Mats Hummels due to a neck injury, while Marco Reus could be handed a start after a bright 30-minute cameo off the bench against Mexico. "Everyone is ready to fight for their lives," said striker Timo Werner, who is again set to lead the Germany attack. With 10 World Cup goals to his name, Germany will also expect more from Thomas Mueller at his third finals appearance. "The pressure is terrifically high, but we won't win both games if we beat ourselves up internally and look for the mistakes in each other," said Mueller, with Germany to meet South Korea in their final match. Sweden beat the Koreans 1-0 to join Mexico at the top of the section, but a stomach bug has prevented three players — Pontus Jansson, Filip Helander and Marcus Rohden — from travelling to Sochi. They could yet make the trip separately, with Sweden also hoping Victor Lindelof can return after sitting out the opener due to an illness of his own. "This is really what you spend your whole career and life working towards. It is an extraordinary opportunity to be involved in a World Cup match like this," said Sweden boss Janne Andersson. "Whether we knock out Germany is one thing, but we have a chance to qualify and that is extraordinary."