The Lok Janshakti Party leader's son Chirag Paswan said rigorous campaigning may take a toll on his father's health and it's better for him to be in the Rajya Sabha.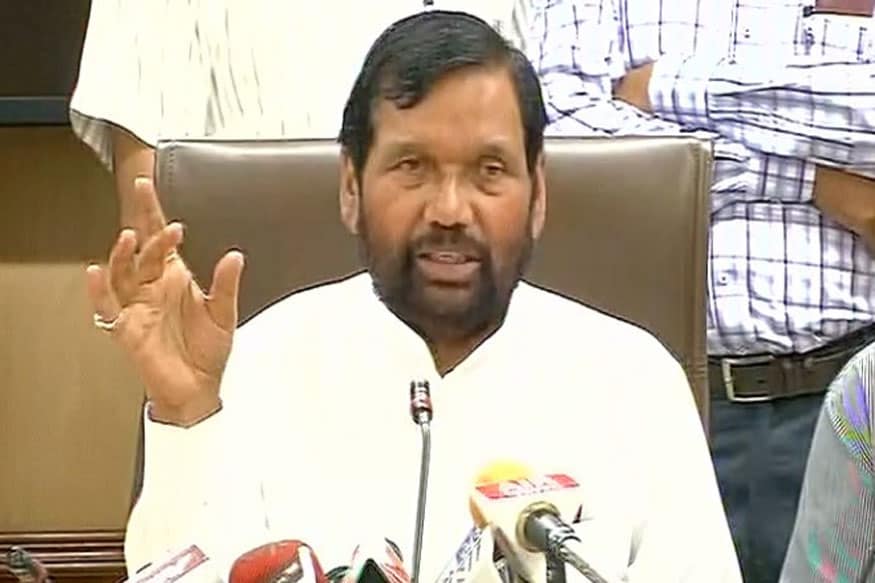 Union Minister for Consumer Affairs, Food and Public Distribution Ram Vilas Paswan.
Patna:
Lok Janshakti Party (LJP) leader Ram Vilas Paswan may not contest the next Lok Sabha elections on health grounds as his party has advised him to take Rajya Sabha route in the parliament.
Confirming the news, his son and LJP parliamentary board leader Chirag paswan told News18 that he and other leaders in the party had the opinion that rigorous campaigning may take a toll on his health and it would be better for him to be in the Rajya Sabha.
"However, it all depends on him. He has to take a call. We have apprised him of our opinion," Chirag added while talking to the media in Jamui, Bihar on Sunday evening.

The LJP has mooted a proposal in this regard to the Bhartiya Janta Party (BJP) as well, said a party leader close to Paswans. "Rajya Sabha ticket to Ram Vilas Paswan also reduces constraints in seat sharing for the next Lok Sabha elections in Bihar. If Senior Paswan takes the RS route, the party might not stress for more than five seats in the Lok Sabha elections," he added.
Ram Vilas Paswan represents Hajipur parliament constituency from where he holds the record of winning from the largest margin in the State. He was first elected in the Lok Sabha from this seat in 1977 and after that represented this seat eight times.
He underwent heart surgery in a London hospital last year in June and kept himself off public life for more than a month.
His son Chirag Paswan may replace him in Hajipur in the next Lok Sabha election. He was elected from Jamui Constituency in 2014.